mDesktop:
mDesktop is a lightweight application that allows the user to utilize multiple virtual desktops.
Instructions:
Holding Alt-Desktop Index (e.g. Alt-1, Alt-2...) switches between desktops
Keystroke Alt-Ctrl-Desktop Index sends the active window to selected window (e.g. Alt-Ctrl-2 sends active window to the second virtual desktop)
Right Clicking on tray icon and selecting option "Hide Icon" hides the mDesktop tray icon while the application is still running, allowing you to have a "boss" workspace

Download

HERE
DeskSpace: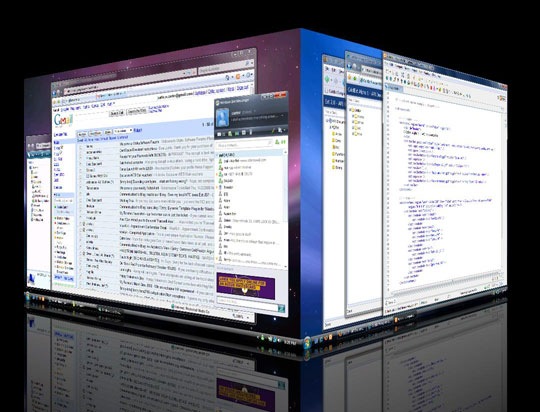 DeskSpace is virtual desktop software that gives you more space for your windows and icons. You can eliminate desktop clutter by arranging your windows and icons across up to six desktops, all easily reachable by navigating adesktop cube.